BA, Certified Rolfer™
Sports Myofascial Release Specialist
C.S.C.S from NSCA Certified Strength & Conditioning Specialist
CPR & AED

Locations:
Erie, Broomfield, Lafayette areas in Colorado
7050 W 120th Ave Suite 203
Broomfield, CO 80020




Contact Me
I am a graduate and current member of the Rolf Institute in Boulder Colorado. I have completed a Neural Mobilization workshop, Visceral training with Liz Gaggini and effective exercises workshop for scoliosis. These workshops have advanced my knowledge in working with the nerves and the Scoiliosis patterns through the fascia, which will help alleviate pain.
My Certified Strength and Conditioning Specialist (CSCS) certification from the NSCA allows me to help clients with stretches and strengthening exercises for weak areas of the body. I am a true believer in self help and maintenance.
I completed a bachelor's degree in Graphic Design from California State University, Sacramento, and was a competitive gymnast for 18 years. I continued gymnastics into college where I competed at the Division I level and through out my training career I saw Rolfer's to help relieve aches and pains. I am still a very active person today. I continue to work with athletes in many different sports helping them compete at there highest levels with the help of Rolfing bodywork.
Most Current Rolfing Experience Includes:

AAA Colorado ICE Hockey Players 2012-2013
NAHL & USHL Junior Ice Hockey Players 2011-Current
AAA Colorado Rough RIders Ice Hockey 2010-2011
AAA Team Rocky Mountain Ice Hockey Players 2009-2010
AAA Colorado Outlaws Ice Hockey Team 2008-2009
Iornman Triathletes
Professional Ballet dancers
Collegiate Baseball Players
Competitive Ice Hockey Players
Competitive Soccer players
The General Public and Seniors

Most Current Personal Training Experience Includes:

Elite Hockey Offseason and Preseason Training
General Public Weight Loss Programs
Bootcamp Training
Strength, Agility and Speed Coach for a local Trebol Soccer Team
Gymnastics Coach for 8 Years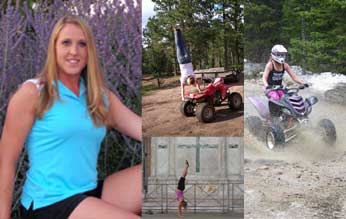 Can you imagine your daily life feeling flexible, energetic, free from those little aches in pains you feel first thing in the morning and actually wanting to exercise? This is the feedback I receive consistently from my clients about the effects of Rolfing®. Pain is usually the last symptom that arrives in order to notify you there is an imbalance in your body. Waiting to do something about it is just harming to your body. Living with daily pain is unnecessary.
Pain effects your mood and certainly your enjoyment of life. Regardless of which modality you chose to assist you in healing, do something sooner rather than later about persistent discomfort and/or pain. After all, you would take your car in to be fixed if the little red light was on. So why not take yourself in when your little red light is on?
Appointments, Policies & Scheduling
Weekday and Saturday appointments are available. Although sessions are approximately an hour, it is best to allow a full hour and fifteen minutes for each session. If there are time constraints, please communicate these at the beginning of the session.
Canceling or rescheduling policy
Session time is valuable — yours and mine. I bill in full for missed appointments or canceling with less than 24 hours notice.